You know how sometimes you buy something–such as a new knife–and you whip it out thinking that it's sharp but you never really know how sharp it is until you do a paper test and it just goes __shhhrrrrrkkkkk__ with the paper just giving up and submitting to the will of the knife and you genuinely fear for your life because what happens if you dream of the knife ending you because it's so sharp that it slices across dimensions?
I had such a moment.
Let me introduce you to the HEZHEN 6.8 Inch Nakiri Knife Pakka Wood Handle Stainless Steel German DIN1.4116 Steel Kitchen Knife from the Aliexpress store I ordered. [I do not receive any commission if you order from the link].
I ordered the knife on 27 December, 2021 and it arrived on 7 January, 2022. While waiting for the knife to land in Singapore, I conjured images of me whipping up fantastic dishes with the aid of a knife that made short work of food prep. I had thought of honing (ha ha) my slicing skills on a Chinese Cai Dao (vegetable knife) since it was a jack-of-many-trades with Chinese Chefs regularly using it as an all-in-one knife–though they use a different knife for splitting bone.
But, I didn't particularly liked the weight of the Cai Dao. I pondered about the possibility of a smaller cleaver and my research led me to the Japanese Nakiri knife. It helped that the pandemic with its stay-at-home induced lifestyle prodded me to broaden my competencies. I decided that I must improve my knife-wielding skill.
The knife came in a well packed and padded box. HEZHEN took the effort to protect the knife too. I like that. Several aspects of the knife also stood out to me upon opening the box. For starters, the knife is reflective.
Then, for $37.92 (including shipping), the knife feels good in the hand. The edge is sharp and the Pakkawood handle sits comfortably in my palm. Admittedly, I don't know much about knives. When I chopped fruits and vegetables during my salad eating period, I used a cheap 5 inch ceramic knife with a plastic handle from a hardware store. It sliced through what I needed it to slice. I even bought a cheap whetstone and honing rod to maintain its cutting edge, and that was that.
So, how much sharper could a knife costing under $40 be? I had seen users slicing paper to express a knife's sharpness. It appeared that really sharp knives or ones that were properly honed, straight from the factory, featured an edge that would cleanly lop paper. So, I tried to slice my late payment reminder from SingTel. This is now the year 2022! I will not forget to manually pay off my mobile bills on time! (Maybe).
Anyway, pleasantly surprised would be a mild way of putting across my thoughts upon wielding the HEZHEN Nakiri knife. If this is what a sub-$40 knife could do, what would their knives costing beyond $40 do? Perhaps they'd +5 to my charisma, +10 to competency, +20 to attractiveness, and allow me to slice a bullet into half, on my chopping board that is. No matter, I'd be slicing food for lunch whenever I am home since I've restarted my salad-lunch regime in 2022, a week ago. I should get better at slicing if I keep at it.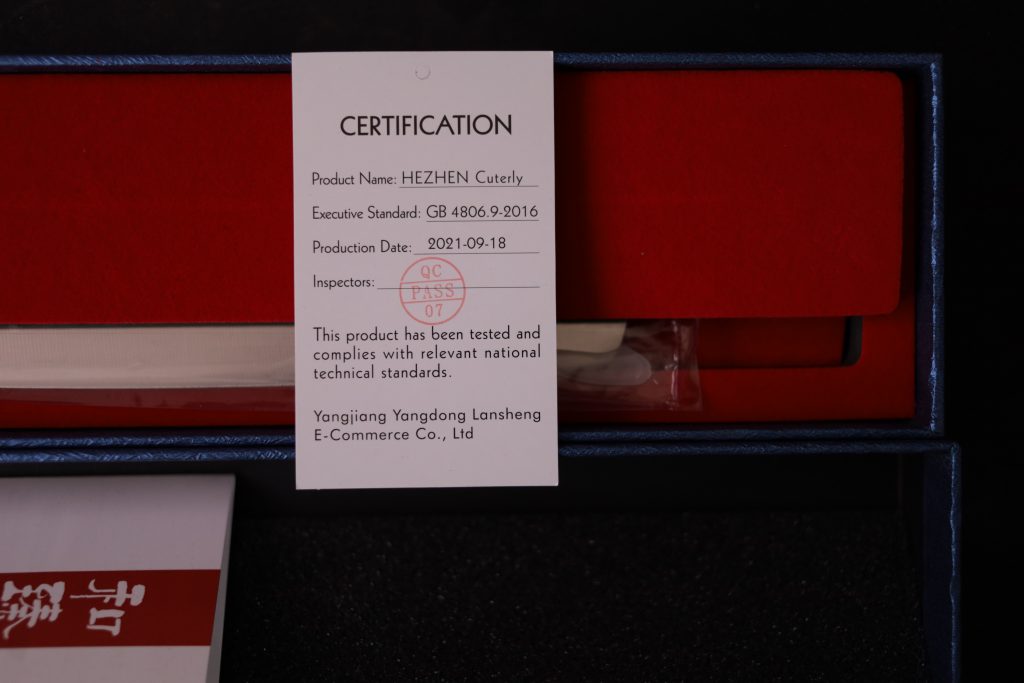 But, back to the HEZHEN Nakiri knife; I reckon that a good measure of a knife's quality is a review after a month of using it daily, followed by one more 6 months later, just to see how everything holds up.
Nevertheless, I used the knife today to slice cherry tomatoes, cucumbers, and red cabbages for my salad. Pay absolutely no heed to the 6 chicken nuggets at all.
For under $40, the HEZHEN Nakiri knife gave me a pleasant surprise. I'd certainly want to see how its edge holds up over time. I now look forward to purchasing a Chinese Cai Dao after settling on one from various brands that I am currently looking at.