Every so often, commoners like me and The Girlfriend dream of dining at a posh place. We imagined an upscale restaurant with fancy ivory chairs, mood lighting from fireflies encased in steel lanterns, crackly jazz music from the 60s played over a hand-cranked gramophone, and people dressed in tees and jeans–Singaporeans are realistic, okay?
And so one search would direct us to an eatery that satisfied our pretentious desire for conspicuous consumption: Nassim Hill Bakery Bistro Bar located at Nassim Hill (surprise!). I know it is a mouthful and I imagined that its owners deliberated over what they should set up during a conversation like so:

Owner 1: "Should we do a bakery, bistro, or bar?"
Owner 2: "Yes."
Anyway, we had intended to dine there several weeks ago; the GF bought a chope voucher only to have all seats taken up before we could place a reservation. She clued me in on the art of securing the opportunity to eat at such places–who would have thought that one must always reserve a seat first rather than take a leisurely stroll into said place to meekly ask for a chance to dine in?
So, we resigned ourselves to fate and made a pact with the blood deity to visit Nassim Hill at a later date.
That date would be today because The GF reserved a table with a 100% success rate–any lower and we would scrounge for food off the kitchen floor.
And so it was, that we found Nassim Hill after ascending a flight of stairs from the carpark. I possess a Masters in Wayfinding, but on this day, the Bakery Bistro Bar eluded me. A brief moment of wonder set upon us while we quizzed ourselves on the location of Nassim Hill. The GPS confirmed that we were at Nassim Hill. My eyes confirmed how Nassim Hill looked like. We decided to scout its perimeter and realised that we were walking away from Nassim Hill. So, we headed back to the building.
There were other eateries on level one but they were not the Nassim Hill Bakery Bistro Bar situated on level one. Where was it? We walked the other way and chanced upon a directory that revealed the location of the Bakery Bistro Bar: Level one.
Did the concept of space and time work differently here?
You see, the ground level is usually marked as the first floor. We walked up the flight of stairs at Nassim Hill and expected to be right where we thought we were. That was absolutely not the case at Nassim Hill if you exited the carpark right after a short flight of stairs. We were apparently still at the basement and had to walk up a longer flight of stairs to level one.
No matter, we got in right on time and were ushered to our table just by the entrance. If a zombie apocalypse were to spontaneously happen, we could readily secure our safety–or demise. Lovely.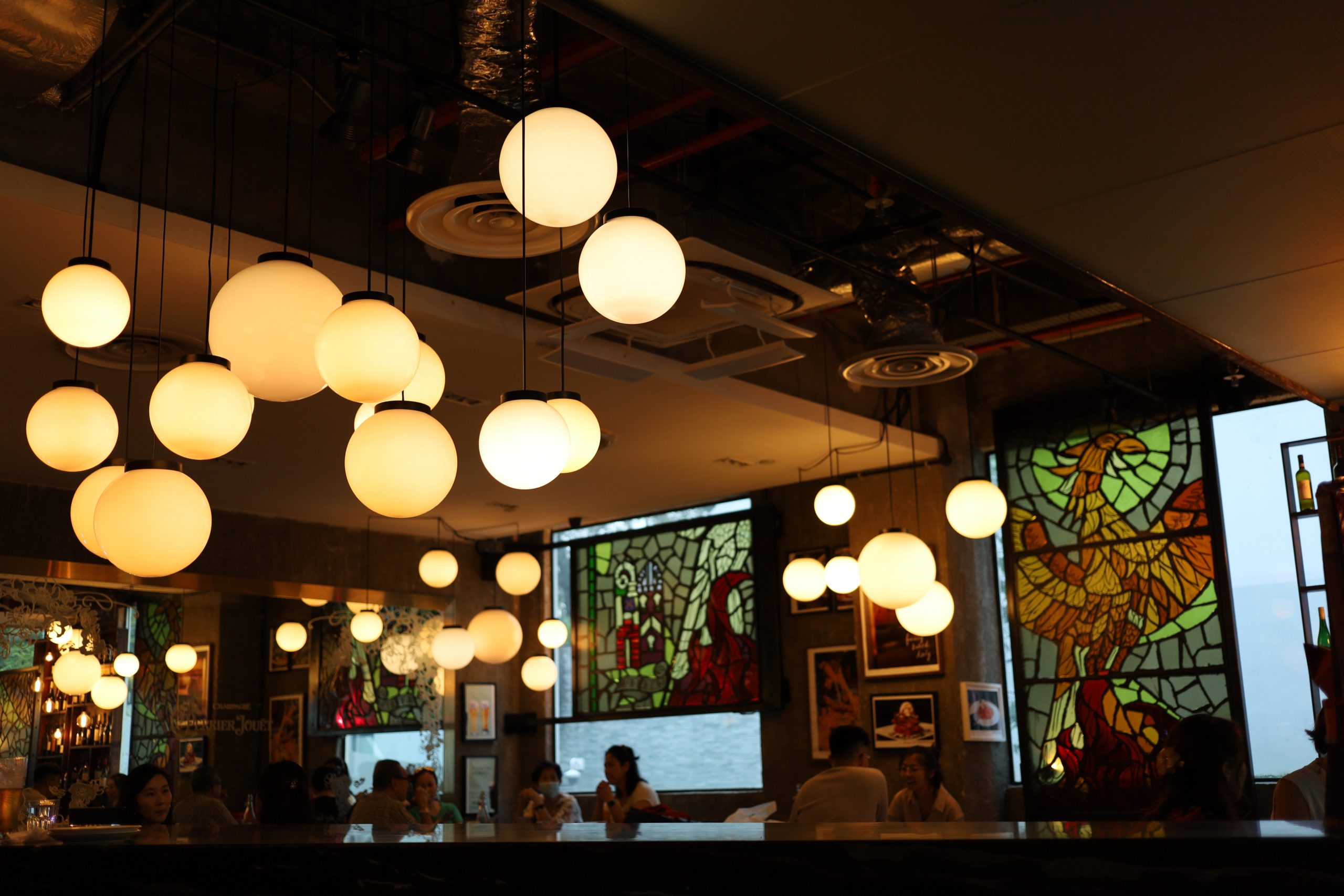 Of course, with a name like Bakery Bistro Bar, you may wonder where the bakery is. Step inside and you will see it.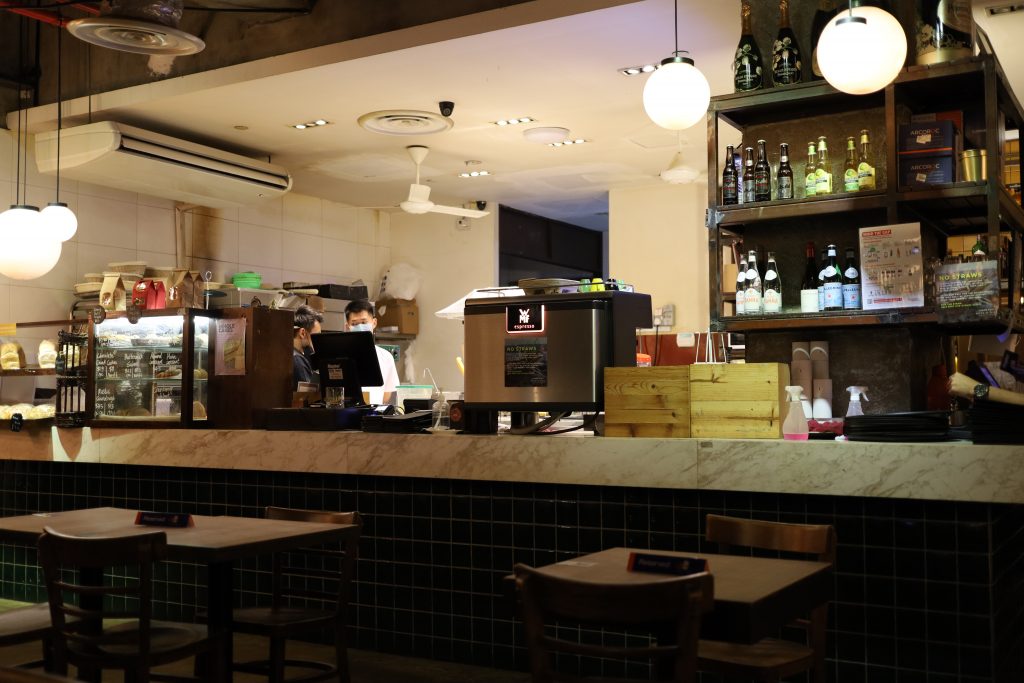 What did we order?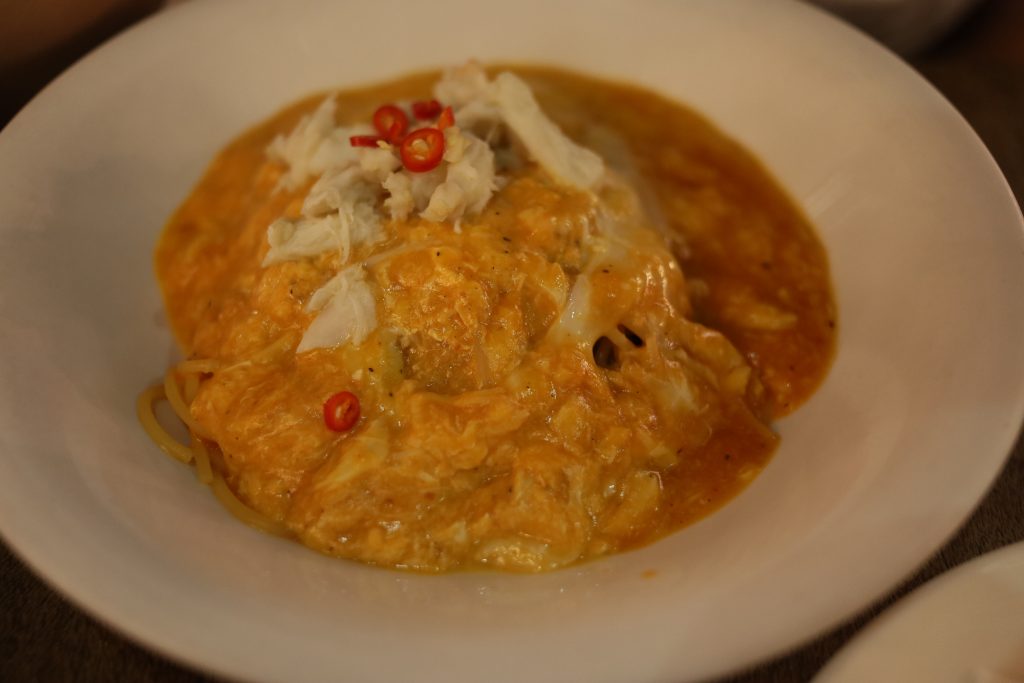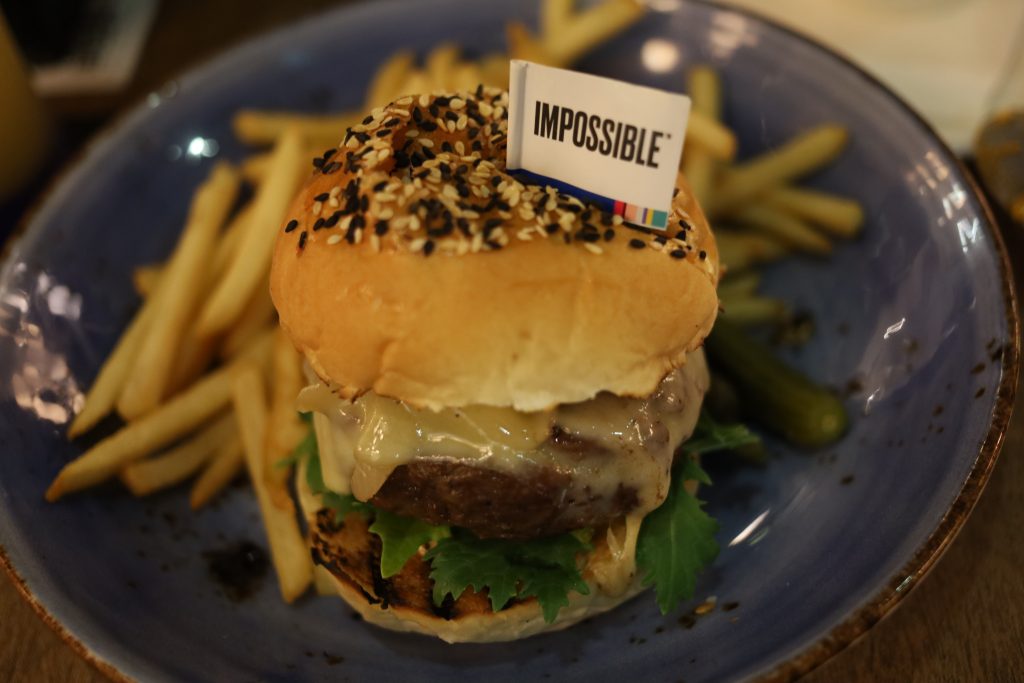 Shreds of crab meat plastered themselves onto a heap of spaghetti doused in chili crab sauce, topped with slices of red chilli padi.
A thick plant-based patty is wedged between fluffy sesame seed buns holding onions, cheddar, lettuce, and tomatoes in place, while a good serving of fries flank one side of the burger.
How was the Chili Crab Pasta?
The GF bought into the recommendations for the Chili Crab Pasta online and felt underwhelmed after sinking her teeth into the gloopy strands. To be fair, it was not bad at all. Give the dish a try if you wish to discover how chili crab and spaghetti can come together in a sort of east-west alliance. If you close your eyes, the spaghetti would be indistinguishable from Chinese egg noodles–calling it Chili Crab Noodles would be out of place at a Bistro though, right?
How about The Impossible Burger?
The star of this plausible food show has to be the Impossible Patty.
It reminded me of beef with its reddish-brown colour with the texture passing off for my meaty brothers. While this was my first time chomping on an Impossible patty, I found it a pleasant experience and would certainly seek more Impossible foods made possible in the future. If this is what plant-based meat can do to our senses, colour me elated.
However, I realised one thing about the Impossible Burger: It is impossible to keep the entire gastronomical contraption together. If you have not played Jenga before but wish to observe a tower of blocks tumbling down into a messy pile, remove the toothpick from the Impossible Burger next time. Note that I cannot be held responsible for any bodily injury arising from your actions.
On another note, take my advice please: Do not order truffle fries when you order a dish that already comes with fries unless you want to know how a dolt feels like.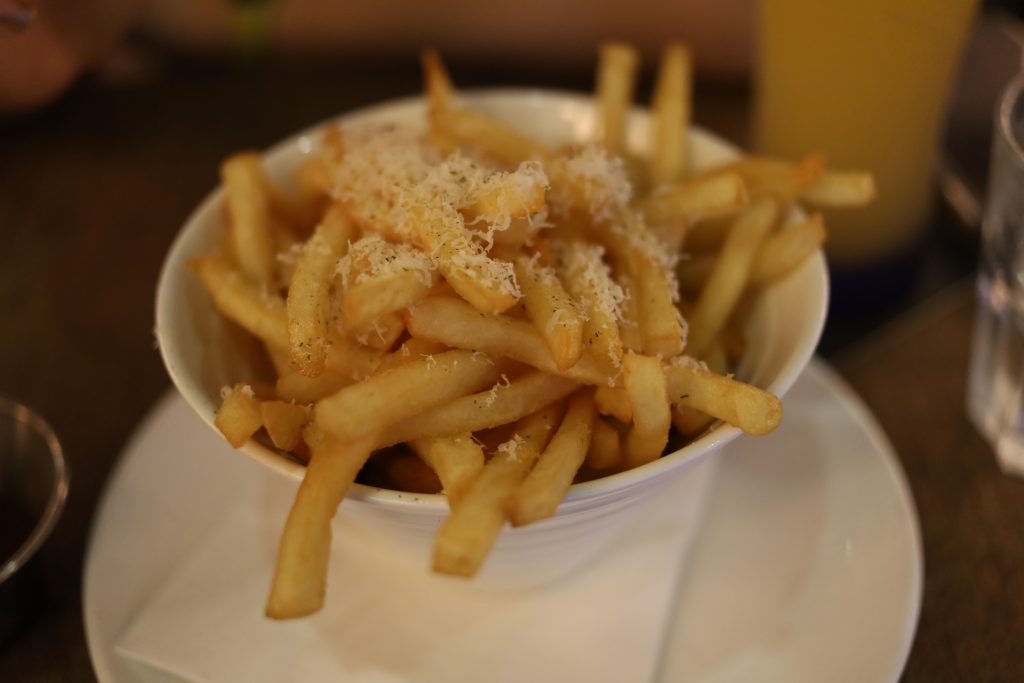 If you cannot live without truffle fries though, be my guest and go wild over the appropriately sized fried potatoes. They were served piping hot and crispy. Unlike the mains, we ordered truffle fries and we got it. I can only describe them as fries with truffles.
We also downed everything with a 1-for-1 Kronenbourg 1664 Blanc because why not? Yes, it was a 1-for-1. But, look at that glorious name of an alcoholic drink and tell me we ought to steer clear. No, I am not listening already.
I rate Nassim Hill Bakery Bistro Bar a Good Workout out of a Gentle Hill.