Located at The Rail Mall, BlooiE's Roadhouse is a bar and a restaurant serving food of the grilled and fried variety. The Girlfriend and I patronised its premises some time ago. We sat outside and downed beverages that would make people spill state secrets if they drank one too many. I had remembered the place as a bar and cafe with a relaxed atmosphere.
This time, we would come here again for a meal, an Erdinger, and a Lychee Martini. If the exterior was bright and open, the interior called for the use of night goggles and should also appeal to diners looking for a place rated between "cosy" and "claustrophobic".
For those wishing to discuss matters of life and death over food and drinks, I suggest that you sit outside. For parade commanders and drill sergeants, the interior is your homeland. For the rest of us, keeping a conversation private, while not impossible, is a challenge, given that everyone else seems to be scolding each other while music blared overhead and assaulted our ears. I expected everyone to wake up with a sore throat the next day. You can expect to learn more about the diners too–sitting in close proximity forces you to critically analyse what comes out of your mouth next.
If you have ever dined at a place with tables and chairs packed closely together, you would know how it feels like to learn of someone's adventures as you chew into your food. Such was the case at BlooiE's. Granted, space is a premium in land-starved Singapore. Where have I heard this one before…
Regardless, our mains would soon arrive. The Girlfriend still had food fermenting in her belly, and ordered a lighter meal. I was famished and ordered a burger.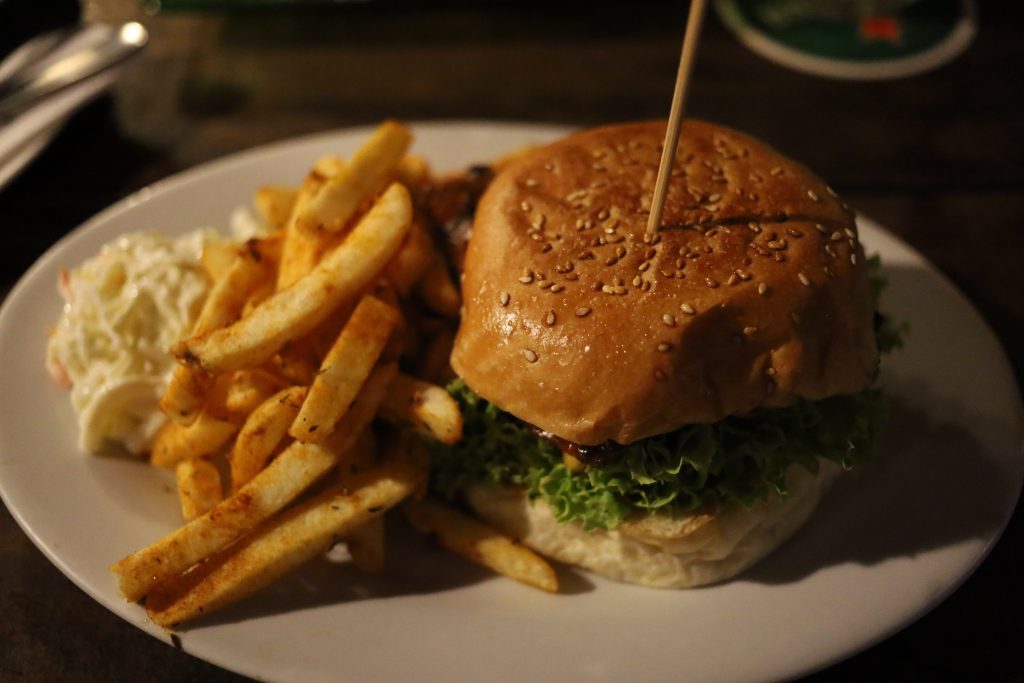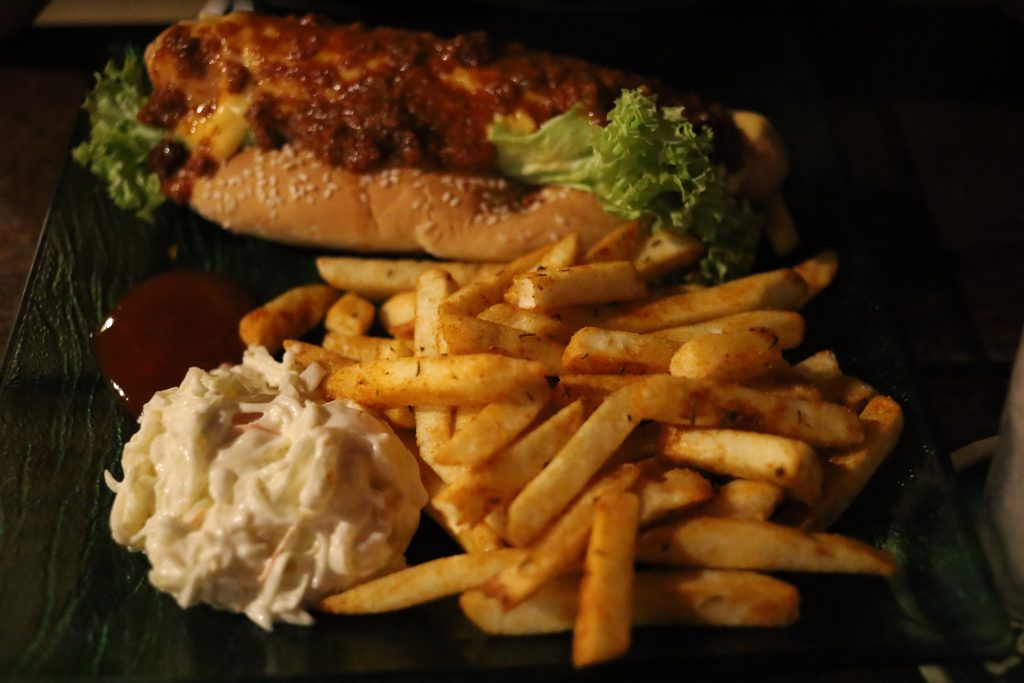 I felt that the serving size for both meals was adequate. The Cajun Chicken was sufficiently thick, juicy, and tender to the bite; importantly, it was not parched. I also like to think that a burger is done right when my knife slices through it like a sharp instrument cutting through a form of condiment with the barest of resistance.
The Chilli Cheesy "Dog", as its name implies, is a sandwich featuring–no prizes for guessing it right–a hotdog sandwiched between greens couched in a generous layer of cheese and chilli sauce. If you need a comfort food after 18 hours of non-stop partying, this is your go-to.
Par for the course, BlooiE's mains come with coleslaw and a serving of fries that snap with a satisfying crack when steel meets its skin. These sides are nothing to write home about; but, you know a restaurant has got it right when its diners wipe the platter clean.
I give BlooiE's Roadhouse a BlooiE out of Ratatouille house by the road.