For some time now, The Girlfriend had tried to get me to consume beef. As long as I can remember, I abstained from it due to religion. I was a Buddhist for much of my teenage years and we do not do beef. My mum also encoded a set of instructions into me, such as: "You must never eat beef." Thanks mum!
Recognising that I was born in the year of the ox, I then gained an aversion to consuming beef–eating my oxen mates felt wrong. Hence, years passed with me meandering through life eating flesh and meat from animals with two feet or fins. I should state that I am not a vegetarian by any stretch of the imagination. If it is any consolation, I eat salads, but even they have meat in them.
My beef avoidance ways have worked out well for me for the most part otherwise.
However I must confess: I ordered the beef bowls at Yoshinoya Northpoint while I was a mere secondary school kid. This Japanese restaurant was a novel place to four-eyed me then. Nevertheless, despite not having eaten there for years, I can still vaguely recall how the beef bowls tasted like.
But, there is no need for me to ponder how beef tasted like, since I last took another bite of its flesh only a few years ago. Wouldn't you know: It was the GF who offered a slice to me at Suki-Ya.
Now, while I cannot completely trust my memory, there is a story to be told: My body experienced discomfort shortly after ingesting a small slice of beef. Was I rejecting meat that wasn't cooked to its bones? Did I psychologically rewire myself to recoil at the sight of beef? Were my oxen brethren channeling their spiritual energies through their lifeless meaty fibres down my esophagus, then up into my cranium? Were they sending a message?
I don't have the answers. Anyway, the GF had decided with her brother that I should be brought to a particular restaurant which "served really tasty chicken". This set off alarm bells in my head; I knew they loved beef. In fact, the GF made absolutely sure on multiple occasions to sound her desires for a meat that could be eaten in its various states of tenderness. Surely this had to be beef? So, why bring me to a place that served chicken if the GF and her brother (and his GF) gravitated towards red, bloody, medium-rare meat of a particular animal that could be cooked to a level suiting one's own tastes?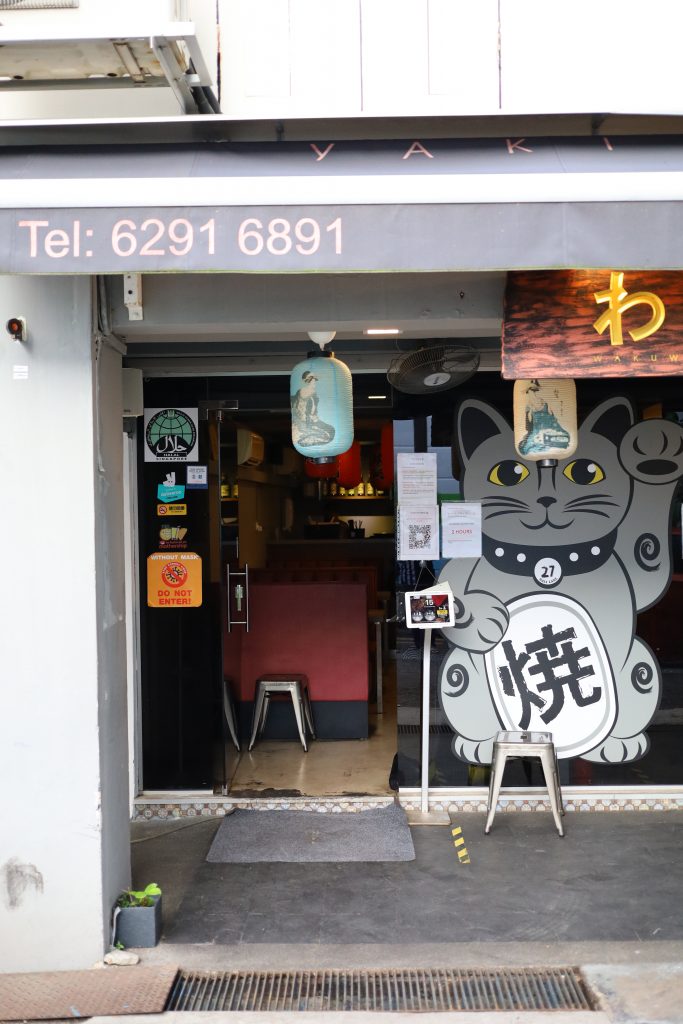 Enter: Wakuwaku Yakiniku (Say it ten times, then look under your pillow). Situated at 27 Bali Lane, this Halal restaurant opens at 5pm and is flanked by eateries on both sides. If you miss the signboard, look for the grey beckoning cat.
For drivers who wish to relive their learner days maneuvering the indoor circuit at the driving centres, the treacherous and narrow road outside the restaurant welcomes you. Just look at the road on Google Maps! If you have ever driven around the area, put your fist to your monitor and know that I have mine stretched out right now–Do not leave me hanging. Still, I suggest parking at Arab Street instead.
Now, I was all ready to conduct my experiment: Chow down on one small slice of beef and find out if my body would enter a state of revulsion. Having done my research, I was not surprised to find out that the place that "served really tasty chicken" turned out to deliver mostly beef from a platter instead, and then some flesh from a fowl. My readiness to eat was however, tempered. Despite arriving at about 4.45pm, the restaurant was already filled to capacity. A short chat with the staff revealed the necessity of either coming much earlier or making a reservation online. Others, just like us, were unable to immediately indulge in gluttony too. I noted that we should queue overnight to secure a spot and get seated upon arrival in the future.
Anyway, we promptly made a reservation and were told to come back at 6.30pm. It turns out the place could only hold up to 10 groups of diners owing not just to social distancing measures, but also the small yet cosy venue.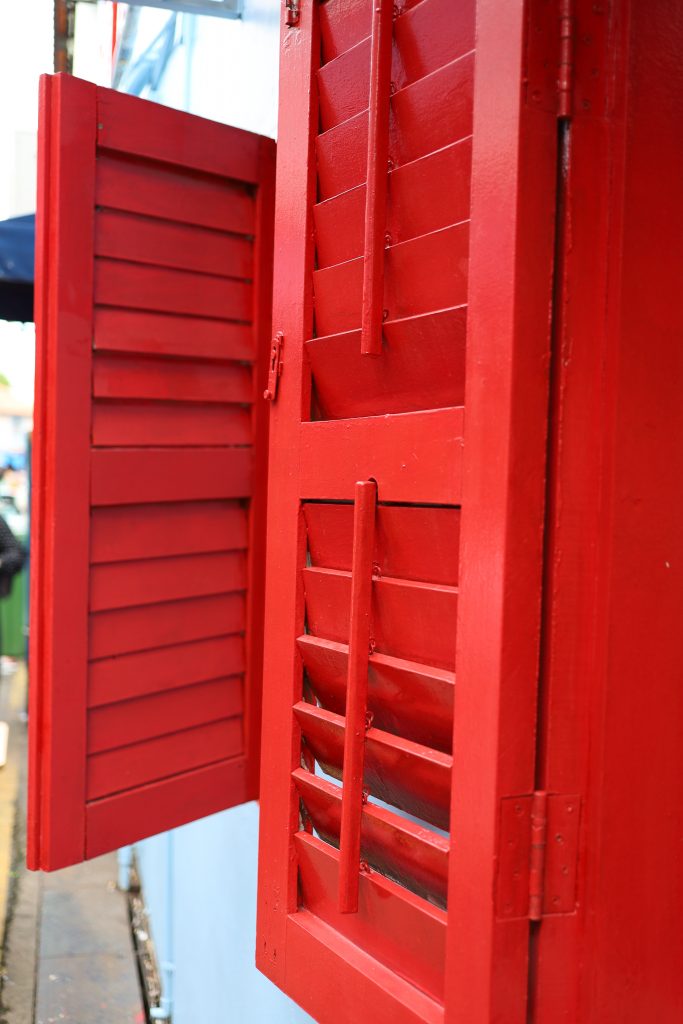 No matter, for the early and late birds who do not drive or fly but walk instead, we felt compelled to roam around the Instagrammic haunts. So, while we waited for our table to be ready, our legs took us along the streets of Bali Lane, Arab Street, Haji Lane, Subhan Street, and the general vicinity. There is much to take in, and take we did; The GF, GF's Bro, GF's Bro's GF, and I scouted for a nearby air-conditioned cafe. We would go there, drink, and play Undercover to pass the time. Along the way, I took pictures.
The streets were noticeably empty during an active pandemic. It was a Wednesday afternoon after all. Someday, we will look back at articles and images posted during these times and ask ourselves how we managed to live through a pandemic, speak with muffled voices, and tolerate foggy glasses.
We left the cafe and headed back to the restaurant at 6.15pm. After a short wait, we were ushered to a table whereupon our face stuffing session could commence. As with the new mask-wearing norm, Wakuwaku Yakiniku lets diners order food through a phone app. This is one norm I can appreciate. Though, unlike conveyor belts or robots that roam on caterpillar tracks, a human being brings food to your table instead. Your expectations must be checked.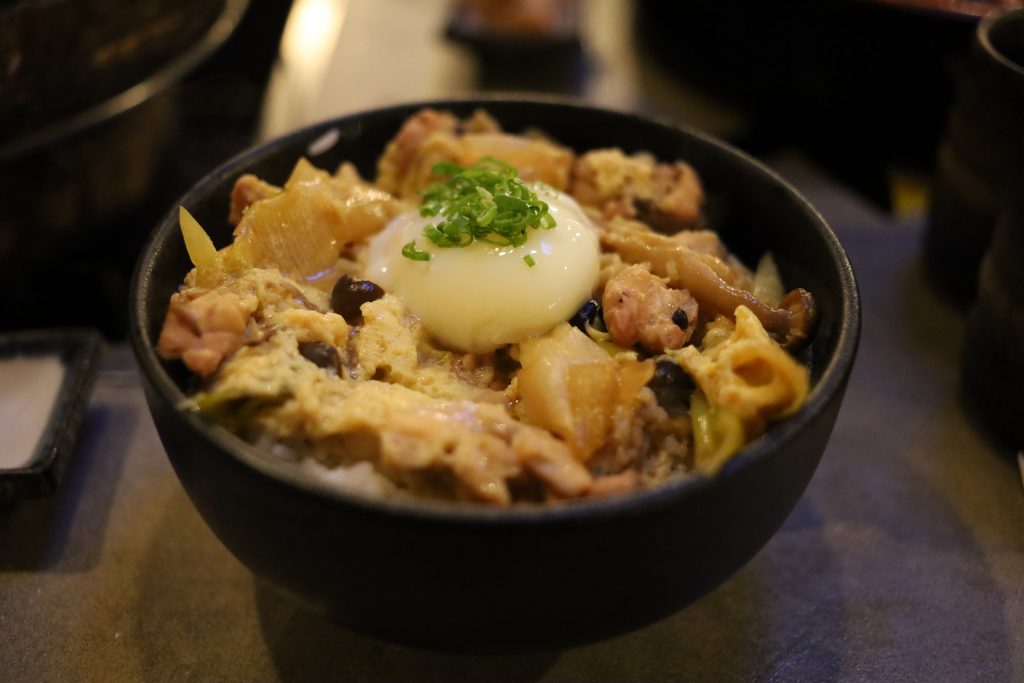 Eaters of the non-beef meat sort can still find solace at Wakuwaku just like I did. The Oyako Don tasted just like how I imagined it. You could down the bits of chicken in one bite or two. How do you know if a meat is appropriately sized? When you can pick them up with chopsticks and plonk them onto your spoon in one olympic winning move for a smooth ten-outta-ten. Oh, there is also an egg.
Now, what is a grill without plenty of raw and tender meats to please your palate? Presenting the star of the show.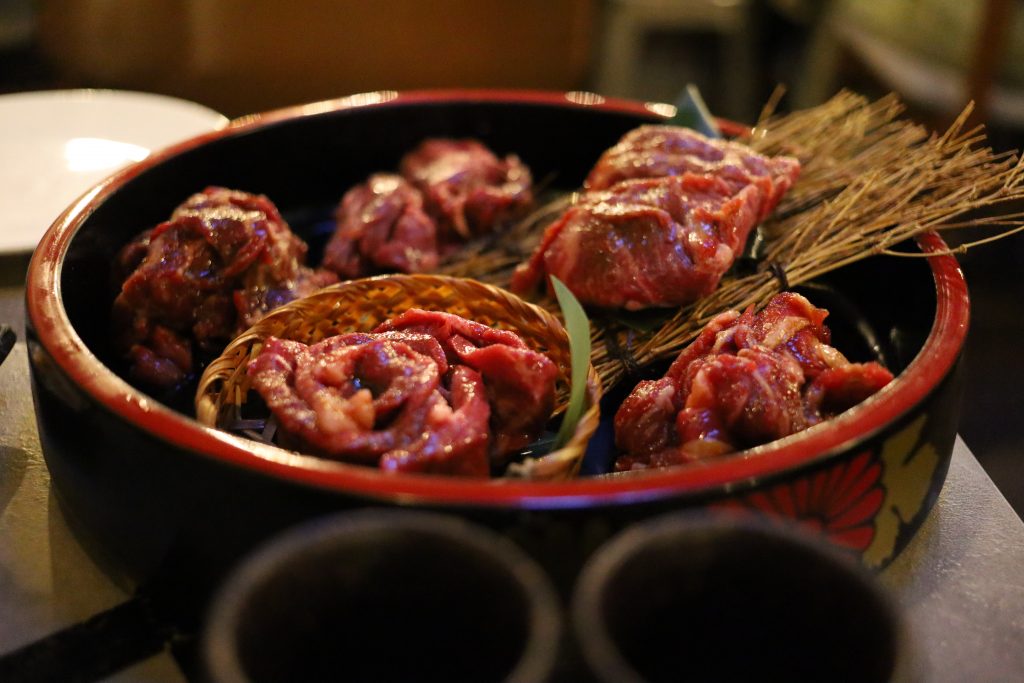 Wakuwaku Yakiniku serves a sauce that I can only describe as more sweet than salty. It layers nicely with your choice of animal flesh and even pairs well with rice. How do I know if a sauce is delectable? Two ways: When the GF's saucer is clean, and when she is dipping into mine.
"That is all fine and dandy, Wei Yong. Tell us more about your experiment! Did you expire?"
Thank you for asking. I ate one slice and it brought back memories of Yoshinoya's beef bowl. But, I can hear you exclaim: "No! Wakuwaku Yakiniku beef is different! You cannot compare like this!" Simmer down, youngling. Yoshinoya's beef is at least cooked to what I think "cooked" means, right? Fellas?
Rest assured. I hear you. I also can hear you screaming from the bottom of your warm, beating heart, extolling the absolute goodness of grilled beef at Wakuwaku over the whoosh of the pulldown vents drawing smoke and oil away from diners. You will still leave the restaurant smelling of grilled things and charred animal remains. Consider yourself warned; And warmed.
I am used to having margarine or butter grease the grill. Call me a just-out-of-safe-zone newbie, but boy was this new to me: Wakuwaku has diners use what I think is beef fat. You use tongs to pick the spongy blob to smear over the grill and unlike gas powered cooktops, Wakuwaku goes with charcoal. I can only surmise that black carbon adds a level of oofmph to your meats. I am now level 36.
For a table of three beef lovers, they ended up ordering one small platter of chicken, and then calling for another one. It turns out, the raw marinated chicken after undergoing an extensive grilling session, paired spectacularly well with the yakiniku sauce to tingle the taste buds. I must confess that I sang praises of grilling the chicken till it turned crispy. There is nothing quite like hearing the crunch the skin from our feathery friends as we put teeth to flesh--after having thoroughly cooked it of course, unlike the beefy sort (oh, my oxen brothers!). My singing may also have contributed to the group ordering another chicken platter. Ha ha, fooled you, I did not sing! If poor singing could cure world hunger, then sign me up.
If you are looking for a Halal restaurant that serves raw beef platters and ala carte rice meals, Wakuwaku Yakiniku is your spirit animal. I can see most people returning to this restaurant. Though food was good, the heat always gets to me. Still, I will report that the experiment concluded with no casualties. Okay, fine; There was no casualty.
But the story does not end here. I felt the need to expunge brown waste of the liquid kind after--coincidentally--chomping down on the single slice of beef grilled by Hers Truly. I count my lucky stars that Wakuwaku had one toilet meant for all genders. Excusing myself from a table of temporary carnivores, I had to get past three unarmed staff who stood watch outside the toilet. "Is anybody inside?", I asked a man who locked gaze with me. He responded something to the effect of "you can see". I had to shelf my courtesy. It would appear that the appropriate action is to push the toilet doors, then ask if a human person was inside doing the deed, then soil your pants, then knock the door, in that order for future tours to the porcelain throne.
I would go on to further expel bodily waste two more times later in the day. Was this causation? And was this correlation? Could it be a mere coincidence? Was the universe telling me something? Were my oxen brethren riling themselves up to warn me of something again? Will I strike toto soon?
I still have no answers but I give Wakuwaku Yakiniku two horns out of one bull. Till the next time!